Description
How to Use Your Advair Diskus Inhaler
If you have asthma or chronic obstructive pulmonary disease (COPD), your doctor may suggest the Advair Diskus inhaler. This is an easy and effective treatment that can be used to improve your breathing and the long term health of your lungs.
What is the Advair Diskus Inhaler?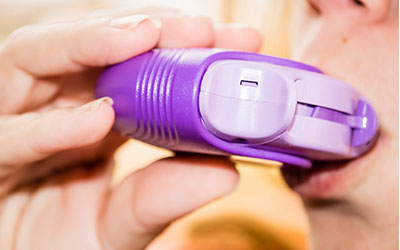 Advair Diskus is a dry powder inhaler that's used to treat the symptoms of asthma and bronchitis. It's a combination of two medications, fluticasone and salmeterol, which can improve lung function over the long term. These medications work in concert to treat the most troubling symptoms of asthma in the following ways:
Fluticasone is a corticosteroid, which reduces the inflammation in the airways,
Salmeterol relaxes the muscles of the airways to allow for deeper, easier breaths.
However, the Advair Diskus medication isn't designed to treat an asthma attack that's already in progress. This medication helps prevent future attacks and improves your lung strength over the long term and it doesn't work fast enough to alleviate urgent breathing difficulties. So if you're prone to asthma attacks, you still need to make sure you have your rescue inhaler with you at all times.
How to Use your Advair Diskus Inhaler
The Advair Diskus may look complicated, but it's actually really easy to use. Follow these five steps to get the full benefits of the medications:
Open the mouthpiece on your Advair Diskus.
Hold the inhaler so it's flat with the mouthpiece facing you and push the lever until it clicks into place.
Breathe out until your lungs are empty and then inhale the medicine and hold it as long as you can before exhaling again.
Close the inhaler and store it somewhere safe.
Rinse your mouth to get rid of the taste.
The Advair Diskus inhaler should never be used in a breathing emergency. Make sure you have a rescue inhaler with you at all times if you're prone to asthma attacks and seek immediate professional help if the rescue inhaler doesn't relieve the breathing problem.
Advair Diskus Doses
Advair Diskus 250/50
There are a few different types of Advair Diskus inhalers which have the same combination of medications, but in different strengths. Advair Diskus 250/50 is mostly used to treat chronic obstructive pulmonary disease (COPD). It contains 250 mcg fluticasone propionate and 50 mcg salmeterol.

Advair Diskus 100/50 contains a lower dose of fluticasone propionate (100 mcg) and the same dose of salmeterol. If you aren't sure which to buy, make sure you discuss these options with your doctor before making a purchase. They'll help you to find the right Advair Diskus doses for your condition and life circumstances.

The Advair Diskus should be taken twice a day with roughly 12 hours between doses. You should also ensure that you take your Advair Diskus doses at the same time each day for the best effects. It's safe for anyone over the age of four who suffers from chronic asthma symptoms to use.

ADVAIR DISKUS 250/50 (also known as Advair 250 50) is a twice-daily prescription medicine used long term to treat chronic obstructive pulmonary disease (COPD) for better breathing and fewer flare-ups.
Advair Diskus Price
best advair diskus price click on the product drop down above and select to product size you are looking for to add to your cart.

From time to time as a Canada Drugs Direct client you may also receive advair diskus coupon codes to save even more on this product.
Directions
Advair Diskus How to Use
Follow these steps every time you use ADVAIR DISKUS. If you have any questions make sure to consult your doctor.

Step 1. Open your ADVAIR DISKUS.
Step 2. Slide the lever until you hear it click.
Step 3. Inhale your medicine.
Step 4. Close the DISKUS. (When you are ready to take your next dose, repeat Steps 1 through 4.)
Step 5. Rinse your mouth.

For more information on how to use Advair Diskus consult your doctor or read this guide.
Fact Table

Formula

C50H68F3NO9S

License

EU EMA, US FDA

Bioavailability

-

Legal status

RX Only

Chemical Name

Fluticasone / Salmeterol

Elimination half-life

9-11 hours

Dosage (Strength)

100/50mcg (60 doses/diskus), 250/50mcg (60 doses/diskus), 500/50mcg (60 doses/diskus)

Pregnancy

Consult a doctor

Brands

Advair Diskus

Protein binding

96%

PubChem CID

9811567

MedlinePlus

a699063

ChEBI

31403

ATC code

R03AK06

DrugBank

DB13867

KEGG

D08699

Routes of administration

Inhalation
Cautions
Who Shouldn't Take this Medication?
Before you start taking any new medication you need to discuss it with your doctor. You can help them to make the right diagnosis and prescribe the right treatment by giving them all the relevant information. Firstly, make sure that they're aware of any allergies you have, including any food allergies, to avoid an allergic reaction.

The second thing you should share with your doctor is a list of any medications, prescription and non-prescription, that you're taking. The medications in the Advair Diskus can react with other medications, so this is particularly important for your safety. Disclosing this information will also help to ensure that the Advair Diskus medications work properly.

And finally, make sure your doctor has your complete medical history, especially any past history of infections that could change the way this medication interacts with your body. By sharing all this information with your doctor, you will be doing your part to keep yourself safe and healthy while you're trying the Advair Diskus.
Side Effects
Potential Side Effects
There are side effects that you must be aware of with any medication. Though most people use the Advair Diskus without any serious side effects, you still need to be aware of problems you may encounter. The most common potential side effects of this medication include:
Dry throat
Body aches or pain
Sneezing or a runny nose
Stomach upsets
Headache
Choking
Voice changes, such as hoarseness
Congestion
High-pitched noises when breathing
Difficlity swallowing
High blood pressure
If you notice any of the above symptoms make sure you discuss your options with your doctor.
The following are a list of less common but more serious symptoms that can reslit from Advair Diskus medications. If you notice any of the following, make sure you discontinue your medication and see a professional as soon as possible:
Chest pain
Tremors
Allergic reactions such as swelling or rash
Infections in the mouth or throat
Fast or irregliar heartbeat
Breathlessness immediately after your dose
Increased anxiety
Vision problems
Increased susceptibility to infections